Fabulous is as fabulous does.
Well, hello! I'm Alex. I love making art, fashion, and teaching creativity.

Although I've been making art for over twenty years and teaching kids for over twelve, I've let my inner perfectionist be the boss of me. And her control-freak tendencies have had me frazzled and living small for longer than I care to remember.

Ya see, for years I've struggled with my perfectionism and feeling stuck. I've always had these two opposing personalities inside of me: the fearful perfectionist vs. the rebel-artist-misfit.
Getting unstuck.
Here's what I figured out:
It's only taken me 30 years (uh-huh), but I figured out that my creativity is the answer to getting unstuck and living large.

My creativity is an expression of my rebel-artist-misfit self.

I call this part of myself my sassy misfit attitude. And it's my superpower. No lie.

My sassy misfit attitude helps me:
• Feel comfortable with being different for the sake of my own values
• Value, above all else, the freedom to love and express myself
• Play more and care less

Mind you, I'm still a perfectionist. The difference is that now I know my creative practice is a form of self-care. My sassy misfit attitude helps me live my values. And I inspire others to do the same.

Expressing your creativity is the fastest way to feeling good.
But what if I can't even draw a stick figure to save my life?
Well, the truth is you don't need to become a more creative person. You only need to give yourself permission to play.

So instead of telling yourself you're not creative, try this on for size:
There's always a way. It's my time to play. What can I do, just for today?
Life is too short to put feeling fab on hold.
Melinda

"Like everyone else, I have no idea what the world will look like next. I do know I feel better about being me than I ever have!"

Superpink Boa Scarf
Twinki-Winki is no-fuss fabulous.
NO-FUSS = a desire for simplicity and ease
FABULOUS = a desire to feel good in your day-to-day
Choose from scarves, totes, tees, backpacks, prints, mugs, pillows, towels, blankets, and laptop cases. And I'm delighted to announce that I'm now also offering online workshops. Yay!

Other brands make fussy products that you can only wear on special occasions. That's because they use the wrong materials that require special care. Or their colors are hard to match with your existing wardrobe. And many times they make their products so lackluster that you never feel like wearing them. So you forget you have them. The end result is a closet full of trendy products that never get worn. And where's the joy in that?

When you buy from Twinki-Winki, you know that dressing fab fits into your machine-washable-life. I make my fashion accessories no-fuss fabulous. This means they're designed for easy use, easy care, and easy wear.
Because joy is never having to put feeling fab on hold ever again.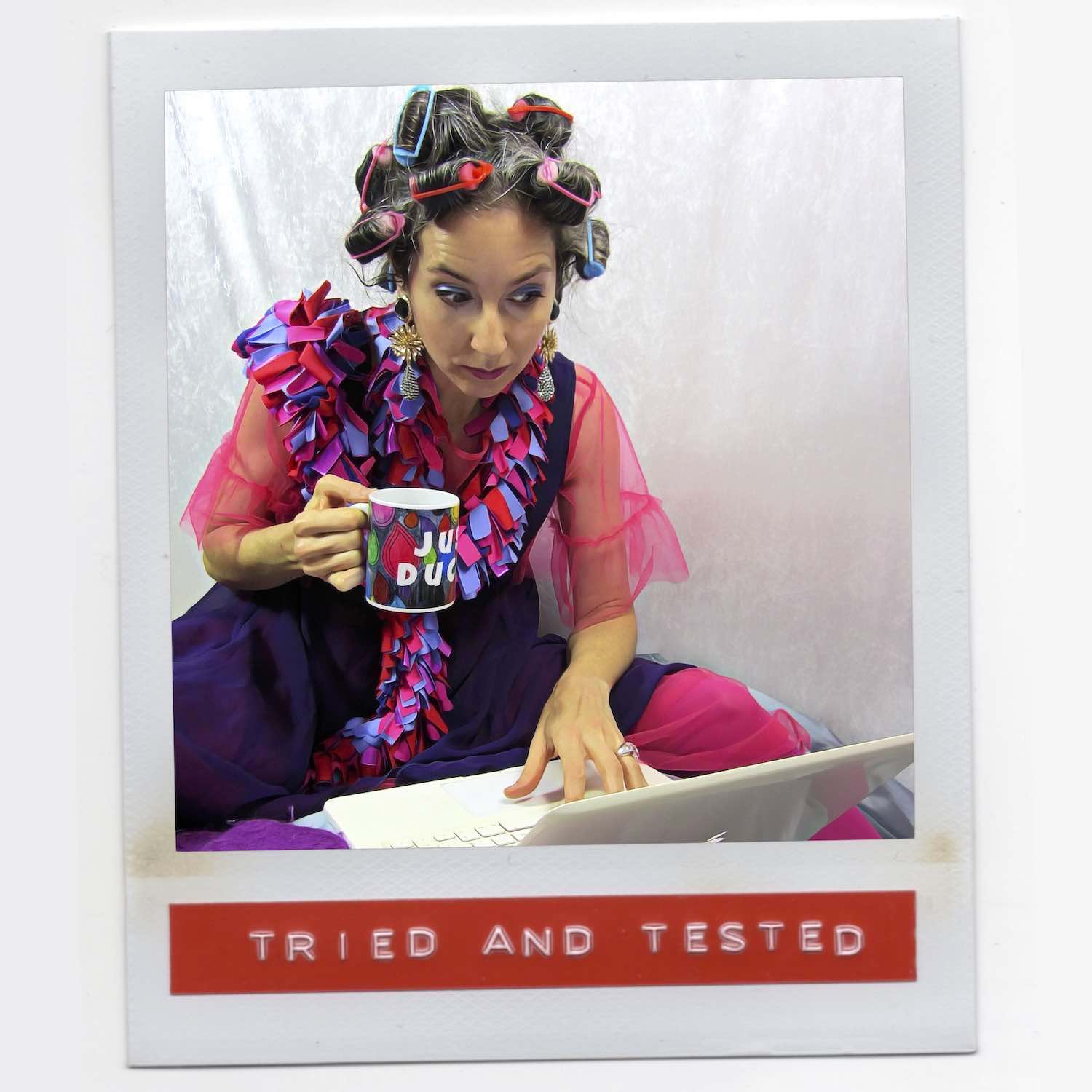 Thanks for the pep talk. And you are?
Think of me as a rebel on a mission to bring more joy to the world, one human at a time. Starting with myself. And I just happen to be an artist, a teacher, and a fashion misfit. So there ya go.

I'm here to remind you that your creative genius is already inside of you waiting to flow out. Your only job is to crack the shell of your resistance.
Fabulous is as fabulous does. Feel fab whenever you darn well please. Amen.
Here's your next move:

Get on my mailing list!
It's time for a little weekly attitude boost from yours truly delivered straight to your inbox. Sign up for Twinki-mail and grab your Besties Forever freebie!